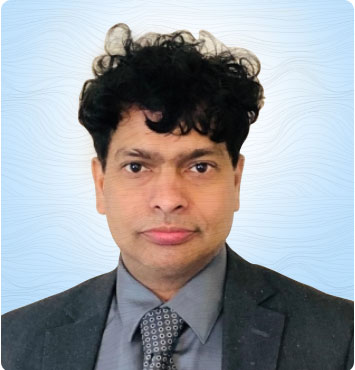 COMPLEX TRAUMA / PAEDS ORTHO FELLOWSHIP, KING'S COLLEGE HOSPITAL, LONDON, UK
PAEDS ORTH FELLOWSHIP, BIRMINGHAM CHILDREN'S HOSPITAL, UK
PAEDS & ADULT TRAUMA FELLOWSHIP, FLINDERS MEDICAL CENTRE, ADELAIDE, AUSTRALIA
ADULT RECONSTRUCTION FELLOWSHIP, THE ALFRED, MELBOURNE, AUSTRALIA
Mobile: 07879387495 Email: [javascript protected email address] and [javascript protected email address]
ABOUT ME
Mr Shobhit Verma is a highly specialised paediatric orthopaedic consultant, employed at the Bedfordshire Hospital NHS Foundation Trust.
He is the only Consultant who provides exclusive and dedicated Private/NHS paediatric orthopaedic services to Luton and the surrounding counties of Bedfordshire, Hertfordshire and Buckinghamshire.
He qualified as an Orthopaedic Surgeon in 1998 from India and pursued advanced training in paediatric and adult sports injuries and trauma, complex orthopaedic trauma with deformity correction in children/limb reconstruction at various tertiary referral centres across the UK and Australia.
Mr Verma has trauma and limb reconstruction fellowships from centres of excellence including The Alfred in Melbourne and Flinders Medical Centre in Adelaide, Australia.
He has speciality fellowships in Paediatric Orthopaedics and Trauma from Birmingham Children's Hospital and King's College, London.
He specialises in young adult and paediatric sports injuries, trauma, paediatric limb deformity correction and limb reconstruction.
His NHS practice also includes routine and complex paediatric conditions affecting the lower limbs including the hip, knees, foot and ankle.
Mr Verma believes in MDT practice. He always involves parents and children in clinical decision making.
He is also a postgraduate teacher and an invited faculty in various FRCS teaching courses across hospitals in London including King's College and Imperial College.
He is actively involved in various national research projects in the UK and has a number of publications in peer-reviewed journals including the BJJ and EFORT. He has presented his work in national and international meetings including BOA, EFORT and SICOT.
He likes to spend his free time cooking for his family, playing squash and cricket.
AREA OF INTEREST
Paediatric and Adult Fractures and Sports Injuries.
Young Adult and Paediatric Lower limb issues -In-toeing, Out-toeing and Angular Malalignments, Knee Instability and hypermobility injuries.
Paediatric Hip including DDH, SUFE and Perthes disease.
Paediatric and Young Adult Foot/ ankle problems including Clubfoot, CVT, Flat Foot and other foot deformities.
Orthopaedic management of children with disability due to Neuromuscular disease, Cerebral palsy.
Skeletal Dysplasias and associated deformities.
Paediatric Upper limb deformity, Malunions and Hand disorders.
Gait Disorders and Joint Instabilities.
GMC DETAILS
GMC number: 6093498-Full registration -On Specialist Register (Trauma & Orthopaedics).
AFFILIATIONS
Fellow of the Royal College of Surgeons, Edinburgh.
British Orthopaedic Association.
Indian Medical Association.
Medical and Dental Defence Union of Scotland (MDDUS).
ACADEMIC QUALIFICATIONS
| | |
| --- | --- |
| Degree/Qualifications | College/Institution/University |
| FRCS (T&O) | Royal college of Surgeons, Edinburgh |
| Fellowship of European Board of Trauma & Orthopaedics | UEMS |
| MRCS | Royal College of Surgeons, Edinburgh, UK |
| Master of Surgery (MS), Orthopaedics) | South Gujarat University, Surat, India |
| MBBS | Government Medical College, Surat, India |
AWARDS /SCHOLARSHIPS
Selected for RACS Accredited Trauma Fellowship, The Alfred Hospital, Melbourne, Victoria, Australia.
RACS Accredited Fellowship, Trauma/Arthroplasty, Flinders Medical Centre, Australia.
Best Performance in University in MS (Orth) exam-1998, South Gujarat University, Gujarat, India.
Merit scholarship, during MBBS.
TEACHING EXPERIENCE
UK Experience: Kings College & Warwick University, Basildon Hospital, 2010-2014
Lectures on Paeds Orth at King's College and undergraduate/Postgraduate examiner.
Taught Medical students from UCL in Clinics, theatres and Bedside sessions.
Involved in conducting mock and formative OSCEs at King's College London.
Organising FRCS Teaching at Basildon Hospital.
Teaching Registrars from various rotations in London at King's College & Basildon Hospital.
Lectured Surgical care practitioners at Birmingham Children's Hospital.
Indian Experience: Government Medical College, South Gujarat University, Surat, 1995-1998
Postgraduate teaching: Lectures/Clinical Supervision and Teaching Surgical skills to Junior Residents.
Undergraduate teaching: Bedside teaching sessions and Lectures on Trauma & Gen. orthopaedics.
Responsible for supervising rotations of junior residents in my department during residency.
Australian Experience: Flinders University and Medical Centre, Adelaide 2007-2008
Actively involved with Medical students/Physios Teaching from Flinders University
Lectures on Sports Injury /Arthroplasty /Weekly Teaching/ Bedside Sessions,
Postgraduate teaching: Lectures/Bedside teaching and Surgical/Clinical skills to SHOs/Registrars.
RESEARCH
Luton and Dunstable Hospital: Principal investigator Of BOSS Study, Recruited and operated on two cases for the study.
King's College: Involved in setting up of BOSS Study at King's College Hospital and Screened / Data entry for five cases in the study.
Basildon Hospital: Sutures Vs Staples in Total Hip Replacement: Formulated a randomised control study at Basildon hospital. Involved in designing, methodology and preparing a draft for the study at Basildon Hospital.UK.
FMC, Adelaide: During the Fellowship Program, involved in the recruitment of five cases in Distal Radius study & Tranexamic acid study at Flinders Medi Centre, Adelaide, Australia.
PUBLICATIONS
Swellings of the sternoclavicular joint: a review of traumatic and non-traumatic pathologies: A concise review of a condition affecting the SC joint and also reviewed recent literature on diagnosis and management of the conditions affecting these joints. The goal of this systematic review was to evaluate the available literature on the causes of sternoclavicular swellings and their management. EFORT Open Rev. 2018 Aug; 3(8): 471–484. Published online 2018 Aug 25
Intra-articular Pigmentation of Synovium: An Unusual cause: An unusual greyish brown discolouration of the Knee joint synovium was found during a knee arthroscopy of a 72-year-old man. This the first report of amiodarone-induced pigmentation of the synovium. Published in CIOS.
Maximising autologous bone grafts yield from ilium: A CT based anatomical study: A prospective observational study carried out at the Department of Radiology, King's College Hospital. The primary objective of this study was to map out the area of the maximum bone yield from a human pelvis based on the 3D CT reconstructions, localise it with radiological mapping and validate it. We wanted to provide orthopaedic surgeons with the ideal location for a cortical window relative to the ASIS and PSIS in adults. Accepted by JCDR.
Evolving Arterial Occlusion presenting as Cauda equina syndrome: A rare but dangerous presentation: A case of thrombosis of the Aorta (Leriche syndrome) presented with pure neurological symptoms with normal felt distal pulses. Presence of a primary malignancy with potential bony metastasis made the clinical picture more complex. Published on E-CIOS.
Scapho-Trapezial-Trapezoid joint: A CT based anatomical study: Reviewed CT scans of wrist joints of 113 eligible patients from our wrist database between 2009 and 2014 for our study. 31 patients were randomised for interobserver correlation. Reformatted multi-planar sequences were analysed. The ratio of the STM: STdin sagittal and coronal measurements were evaluated. Our assessment of the anatomical relationship of the STT joint with CT scan proves that although the area the STM joint is generally larger than the STd joint, there is no significant correlation on the whole. Published as an abstract on BJJ.
DHS fixation for Evans type 1 Intertrochanteric fractures of femur: Results & comparison with conservative management. Jogia A.K, Verma S.R, Sept-1997 SGU-Thesis. Thesis formed part of the assessment for exit exam of MS in Orthopaedics, the study involved prospective follow up of 50 patients over a period of three years & results evaluated on basis of shortening, pain & ROM. published as thesis, South Gujarat University.
PRESENTATIONS
Swellings of the sternoclavicular joint: a review of traumatic and non-traumatic Pathologies –EFORT 2018
Resistant Paediatric Osteoarticular Infections: Regression analysis of factors responsible- SICOT International Meet July-2016.
Scapho-Trapezial-Trapezoid joint: A CT based anatomical study, British Indian Orthopaedic Society Meet, Leicester, UK, July 2016.
Single Event Multilevel Surgeries in CP Child: How to improve outcomes: Local Meeting at Alder Heys Children's Hospital, Liverpool, UK, April 2016.
Surgery in fractured neck of femur patients: Consultant level outcomes and the use of HES data. BOA Annual Congress, Liverpool, UK, Sept 2015.
Fractured neck of femur: Can HES data be used to calculate 30-day re-operation rates? National BOA. Annual Congress, Liverpool, UK, Sept 2015.
Osteoarticular Infections in Children: An Update based on recent Literature, Regional Meet at Birmingham Children Hospital, July 2016.
Guyon's Canal Compression of Ulnar Nerve: A rare case of type-2 Compression, Black Notley Regional Meet, Essex, UK, Feb 2014.
Gunshot Limb injuries: Principles, Controversies and Current Concepts, Regional Orthopaedic Meet, AOA, South Australia, Adelaide, Australia, May-2008.
The Unstable Elbow: Regional Australian Orthopaedic Association Meet, Adelaide, Australia Dec-2007
Assessment of Paediatric Skeletal injuries, Regional GP Meet, Adelaide, South Australia, Dec-2007.
The Limping Child: Are we overtreating? Local Meet, Flinders Medical Centre, Adelaide Oct-2007
AUDITS
Audit on the management of fractures and dislocations with arterial compromise in coherence with the BOAST guidelines at King's College Hospital. This study aims to evaluate how closely, we are following the BOAST guidelines whilst performing limb-saving surgeries with vascular compromise.
Audit on Management of Resistant Osteoarticular infections at Birmingham Children's Hospital. Audit prompted a study into these infections and we found that resistant osteoarticular infections are associated with significant complications. Risk factors such as delayed presentation, immunosuppression, CRP over 100 and resistant bacteriology should warrant early and aggressive medical and surgical management.
Audit on Management of Supracondylar fractures in Birmingham Children's Hospital and Compliance with BOA Guidelines in the management of the fracture. Management of 20 displaced fractures was audited against BOA guidelines. The Audit identified the need for documentation of detailed neurovascular status Pre and Post-op and early discharges.
Audit of Consultant level outcomes in Neck of Femur Surgery: Data for 30-day reoperation and mortality were evaluated and compared to the HES data. Performance indicators can be identified from the HES data and Consultant level outcomes can be assessed as such. It can act as a safety net to identify outliers and address concerns at both the trust level and nationwide.
Audit on preoperative testing against NICE guidelines for Orthopaedic patients. Assessment of pre-operative patients in both elective and orthopaedic wards as compared to the NICE guidance-03/2014.Admissions in Trauma and Elective wards were screened for Pre-op investigations were screened and compared against nice guidelines.11% patients had inappropriate investigations. INR was over ordered in 59% of pts with the inappropriate investigation. ECG and Chest X-rays were under-ordered in 34%and 53%of inappropriate investigations.
Audit on Patient Satisfaction in Orthopaedic Clinics: A quality improvement project in Basildon and Thurrock University hospitals. Cycle completed with the implementation of changes and review-02/2014. Although 96%patients were very happy with the overall service experience and rated as good or excellent 94-98%, Waiting times in clinic were identified as an issue in the clinic in the first cycle. I repeated the Audit after implementation of changes which were 1) Minimise overbooking of clinic 2)Adhering to New vs follow-up appointment ratios 3)BOA Consultation recommendations. The completed loop results showed significant improvement in pt. satisfaction (98%) and also reduced waiting times to 17%.
Audit on Cementation technique in Hemiarthroplasty: Based on Rapid response report aimed at mitigating surgical risk in patients undergoing cemented Hemiarthroplasty. NPSA has recommended a standard protocol and procedure to be followed during cemented Hemiarthroplasty to prevent BCIS. Adherence to protocol was audited yearly from 2010 till 2014. The adherence to the Protocol increased from 60 % to 92% after improving awareness amongst Surgeons and periop BCIS symptoms decreased to 9% from 14%. Results reported to the NPSA
An audit was done on clerking sheets at University Hospitals Coventry and Warwickshire NHS Trust:150 sheets were audited and was found that Clerking sheet documentation was left incomplete in 36% of cases because of unclear or inappropriate generic questions which were not relevant to Orthopaedic practice. Appropriate changes introduced and led to improvement in the completion of documentation in 96% of cases. Led to the introduction of new clerking sheets. Audit meeting July-2005.
Trust wide Audit on the assessment of medical notes in trauma patients in University Hospitals Coventry & Warwickshire NHS Trust, Jan-2006, Objective was to assess documentation (Nursing/Medical Notes). It was noted that 23% of Documentation notes were incomplete with the most common issue being the inability to write full name in Legible handwriting by the staff concerned.67% of these were doctors. The Audit was presented in Jan-2006.
Audit on Time variance studies in trauma patients: an analysis of factors responsible for the delay in definitive Surgery following the admission of open fractures in A&E ward. Haria Rotary Hospital, Vapi, India, Nov-2004.50 patients admitted via A&E were retrospectively audited to check whether the wound debridement was carried out within the required 6 hours post-injury. It was found that there was a delay in 23% of cases. Co-morbidities /Anaesthetic issues were identified in 65% of cases and Consenting issues in 31%. The presentation was made to surgeons and Anaesthetists and Changes implemented.