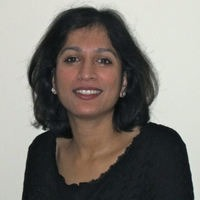 Dr. Preena Patel is a consultant musculoskeletal radiologist with special interests in paediatric skeletal disorders and image-guided therapies. She performs all aspects of musculoskeletal imaging in both adults and children as well as ultrasound-guided joint/bursal injections and CT guided spinal nerve root blocks.
Dr. Patel studied medicine at Guy's, Kings and St Thomas' medical school, where she also obtained a BSc with honours in Neuroscience. She completed basic surgical training in Essex before entering specialist radiology training at King's College Hospital London. Following this, she underwent a paediatric imaging fellowship at Great Ormond Street Hospital, covering paediatric musculoskeletal disorders, rheumatology and complex skeletal deformities. She also holds the esteemed European Diploma in Musculoskeletal Radiology.
She is active in research, having published several articles in peer reviewed journals in addition to multiple presentations at both national and international conferences, including a prize-winning presentation at the British Society for Medical Ultrasound. Her further role as specialist reviewer for Clinical Radiology Journal keeps her in touch with worldwide developments in her field.
She is also committed to medical education and holds the position of lead of undergraduate training for UCL students at her base hospital the L&D. She is a contributor to the Fellowship of the Royal College of Radiology exam by acting as a question panel co-ordinator. She is a longstanding member of both the British and European Societies of Skeletal Radiology.