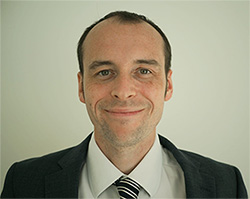 Dr Oran Roche is a Musculoskeletal Radiologist with a special interest in Sports Injuries and image guided therapeutics. He performs a wide range of complex image guided interventions which include minimally invasive treatments for joint and tendon pain. Dr Roche is also highly experienced in performing image guided nerve root blocks.
Dr Roche obtained his primary medical degree at the University of Liverpool.
He has also obtained a BSc in Physiology and MA (Hon) at Trinity College Dublin. After completing his core years in post graduate Medicine, Dr Roche specialised in Radiology at St Bartholomew's NHS Trust in London and has been practicing Radiology since 2010. He subsequently subspecialised in Musculoskeletal Radiology at the Royal London Hospital where he gained experience in diagnosing and treating a wide range of musculoskeletal conditions.
Dr Roche remains passionate about his speciality and has recently completed a Post Graduate Diploma in Sports and Exercise Medicine from the University of South Wales. This has complemented and enhanced his proficient skills in the diagnosis and treatment of sports injuries.
He is involved in research having published research and review articles in peer reviewed international Radiology journals.
He is dedicated to education in healthcare and is currently appointed as College Tutor in Bedfordshire NHS Foundation Trust for the East of England Deanery.
Dr. Roche is an active member of the British Society of Musculoskeletal Radiologists, European Society of Musculoskeletal Radiologists and is a fellow of the Royal College of Radiologists.