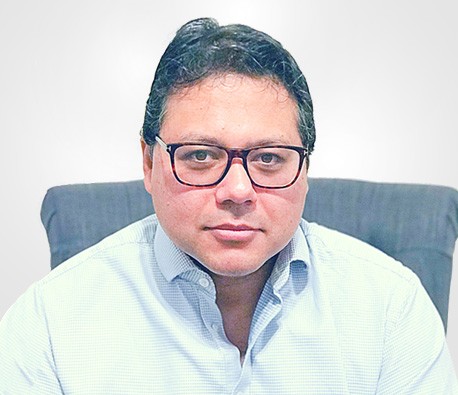 Mr. Dimpu Bhagawati offers his patients full access to a comprehensive and modern range of spinal techniques, treating problems from the top to the bottom of their spine. He believes in advising his patients about their treatment options to manage their back pain and allowing them to make an informed decision.
Mr. Bhagawati provides integrated physiotherapy programmes that include nerve and joint injections through to traditional spinal surgery such as spinal decompression, discectomy and, spinal fusion.
Academic background
Mr. Bhagawati trained in orthopaedics and trauma, completing his postgraduate surgical training at UCL in London and, two Complex Spinal Fellowships at the Nuffield Orthopaedic Centre in Oxford and the Royal National Orthopaedic Hospital in London.
Clinical Services
Mr. Bhagawati uses the latest minimally invasive techniques, including endoscopic spinal surgery, microdiscectomy, total disc replacement, minimally invasive fusion surgery, kyphoplasty and vertebroplasty at Fitzwilliam. Kyphoplasty and vertebroplasty are image guided procedures used to inject cement into a patient's fractured bone to treat painful vertebral compression fractures in the spinal column, often caused by osteoporosis.
He promotes early rehabilitation and rapid recovery for better surgical outcomes and, most of his patients go home the next day following their surgery.
Qualifications
MA University of Oxford 2003
BA University of Oxford 1998
MBBS University College London 2001
MRCS Royal College of Surgeons of England 2006
MSc University College London 2007
FRCS (Trauma and Orthopaedics) Royal College of Surgeons of England 2013
Additional Training
Oxford Orthopaedic Rotation Oxford University Hospitals 2010
Senior Spinal Fellowship Oxford University Hospitals 2014
Senior Spinal Fellowship Royal National Orthopaedic Hospital 2016
GMC registration
Details of Entry to Specialist Register
Trauma and Orthopaedics, 2015
Affiliations / Memberships
Fellow of the Royal College of Surgeons of England, Member of the British Medical Association, Member of the Seddan Society, Member of the Girdlestone Orthopaedic Society, Member of the British Association of Spine Surgeons.
Treatment for Osteoporosis – Balloon Kyphoplasty Spinal Surgery with Mr Dimpu Bhagawati
Neck and Back Pain Treatment - Anterior Cervical Discectomy v Cervical Disc Replacement Mr Bhagawati